Golden Moments allows you to enjoy an Aerobatic Flight in the UK with our Experience Hunters. Feel the excitement of loops, stall turns, rolls and much more with a qualified pilot by your side who will perform a series of breathtaking manoeuvres.
The Experience
You are going to feel the excitement of loops, rolls, stall turns and more in, as your qualified display pilot takes you through a series of breathtaking aerobatic manoeuvres. The main aerobatic trainers which we use for this experience are the Slingsby T-67 Firefly, the de Havilland Canada DHC-1 Chipmunk or the Bulldog. You will be sat side by side with the pilot, and feel the excitement of a competition display pilot while enjoying the exhilaration of immaculately flown manoeuvres.


Vital Information
You should be able to get in-and-out of a family car unassisted. Please be advised that this experience is not suitable for persons who are pregnant, suffer from epilepsy, fits, severe head injuries, recurrent fainting, giddiness or blackouts, high blood pressure, or heart conditions. For their own safety diabetics may be required to produce a medical certificate. No previous flying experience is required. Disabled are welcome (subject to the type of handicap). If in doubt, please consult your doctor or contact our Customer Service Team on +44 (0) 2392 681 470.
Minimum age: 16
Maximum weight: 14 stone
Maximum height: 6'2''


The Weather
Aerobatic flying is a very weather dependent activity and it is crucial that you call the centre for a weather check before setting out. If your flight is cancelled due to the weather, you will be able to rebook.


Session Length
Your flight will last between 20 and 30 minutes, but please allow an additional two hours for the whole experience.


Numbers
Only you and the pilot will share the flying session. The briefing session may be shared.


Spectators
Spectators are welcome at these centres. A pair of binoculars and a camera are suggested.


Dress Code
Dress comfortably and wear flat-soled shoes. Any special clothing will be provided. Sunglasses are recommended all year round and gloves are recommended when cold weather.


Availability
Most centres operate seven days a week, subject to weather conditions. Spring to Autumn are the most popular times of year. We recommend booking at least four weeks in advance, even earlier for summer weekend dates.


Locations
Devon, Gloucestershire, Lancashire, Sussex, Berkshire


Other Information
We recommend that you only have a very light meal or don't eat before your flight. If you do eat a hearty meal, you may feel nauseous.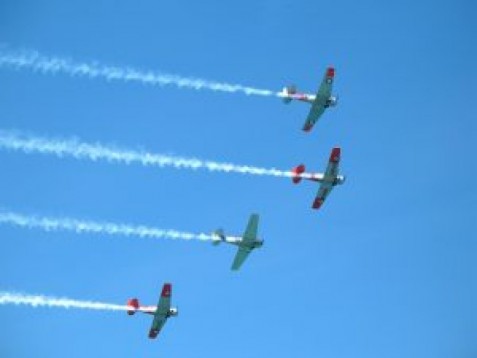 aerobatic flight in UK
Get set to fly high with the ultimate aerobatic flight in the UK for a breathtaking and inspiring experience!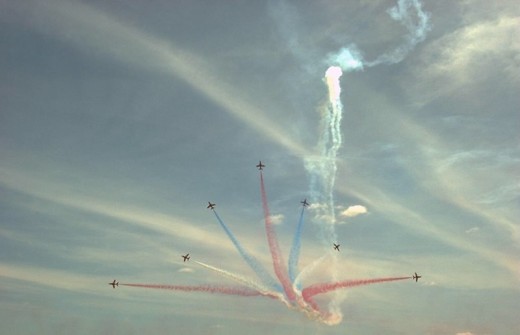 Red Arrows
Enjoy tricks similar to the Red Arrows with our Aerobatic Flight in the UK experience.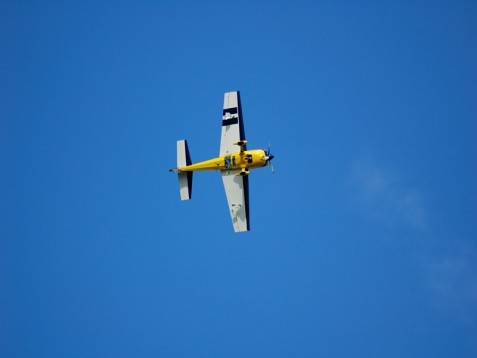 Take to the skies...
with Golden Moments. Enjoy an Aerobatic flight with excitement!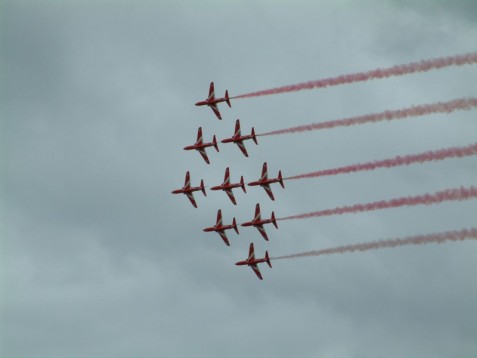 Fly like the Red Arrows
Enjoy an Aerobatic flight and learn to fly like the Red Arrows with Golden Moments.
Aerobatic Flight:
Aerobatic Flight: Reviews
Aerobatic Flight
Flight was at Shoreham in a Stampe (Open seat biplane).
The reception, briefing and flight were handled in a very friendly and professional manner with emphasis on safety. All the aircraft were in immaculate condition. I would recommend this experience to anyone with the urge to discover the thrill of aerobatics in a vintage aircraft.
Steve A (31/08/13)
Aerobatic Flight: Review
Aerobatic Flight: Availability
Aerobatic Flight: Fascinating Facts
As soon as early aviators mastered the feat of staying aloft they wanted to explore the unique freedom allowed by flight. Probably the first 'aerobatic' pilot was Eugene Lefebvre, who thrilled the crowds with his swooping and diving in his 'Wright Flyer' at the world's first aviation meeting at Reims in 1909. Later, Louis Bleriot decided to show that his aeroplanes were safer because they could be recovered to level flight from almost any attitude, however extreme. Adolphe Pegoud was employed as test pilot and on 1 September 1913 he completed the world's first inverted flight, which confounded critics who said that an aeroplane wing could not produce lift upside down. On 9 September 1913 at Kiev, Lt. Petr Nikolaevich Nesterov created the first 'loop the loop' in a Russian Army 70 h.p. Nieuport monoplane. After the First World War air shows became very popular, particularly in America. 'Flying circuses' offered display aerobatics and the more nearly impossible and deadly a stunt appeared, the better spectators like it. Despite incredible advances in technology, very little changed in aerobatics until the 1960s, when highly specialised aircraft used the rotating mass of the engine and propeller as a gyroscope to make the planes tumble in the sky, doing somersaults and rotations on their own length.
Aerobatic Flight: Not sure yet