The Experience
Our Quad Biking Experience consists of riding your Quad Bike (also known as an ATV, All Terrain Vehicle) through rough terrains and tackling obstacles along the way. These superb little vehicles are ideal for a fun day out. In some of our locations you will get to experience Quad Biking in a woodland setting, which creates an excellent and thrilling atmosphere. The experience will start off with some briefing and safety, you will then begin your training around a marked track. After your training and once you have built up your confidence you will then be let loose on the mud tracks and rough terrain. The Quad Bikes that are usual used are Honda 250ES but they vary from location.


Itinerary
Briefing
Training
Laps Around Marked Track
Ride on the Terrain


Vital Information
Minimum age varies but is usually 18 years. A driving licence is not required. Certain medical conditions (e.g. pregnancy, epilepsy, fainting, neck or back injuries) may prohibit participation. You must sign a danger to health disclaimer.


The Weather
Quad Biking is not usually affected by the weather but in cases of uncertainty call the track on the morning of your experience.


Session Length
This varies from location, some locations you will be able to ride your Quad Bike for 25 mins and at other locations it can be up to an hour.


Numbers
This experience is for one person but there will be approximately 15 people riding at a time. You should note that a minimum of two people are required at all venues, sometimes this is 4.


Spectators
Spectators are welcome at most of the Quad Biking venues, but you should check before hand.


Dress Code
Dress comfortably and wear sensible leisure clothes and flat closed shoes. Helmet and race suits provided.


Availability
Most Quad Biking centres hold an open sessions a few times a month all year round.


Locations
The locations available are: Clwyd, Northamptonshire, Suffolk, Didcot, Dorset, Dundee, Bristol, Mid Glamorgan, Dyfed, Dorset, Devon, East Sussex, Cornwall.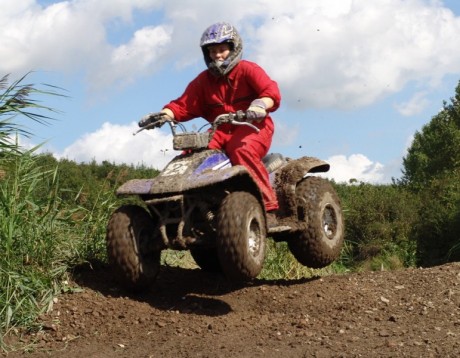 ATV (All Terrain Vehicle)
Ride across the ragged terrain and through muddy waters in one of these amazing Quad Bikes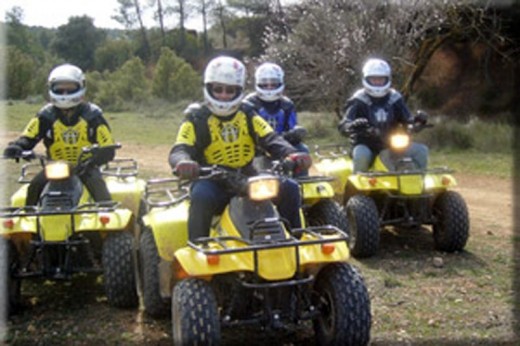 Quad Biking
Get let loose and take on the muddy terrains.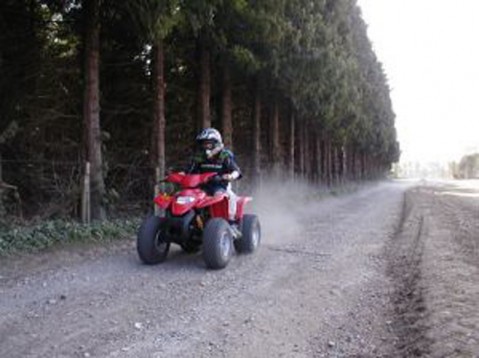 Quad Biking
Quad Biking is the ultimate way to challenge your friends!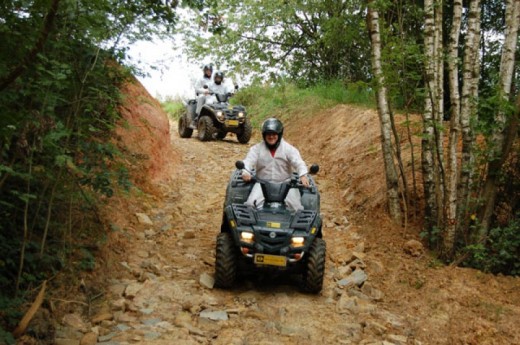 Quad Biking Experience UK
Feel the power of a Honda 250ES!
Quad Biking Experience:
Quad Biking Experience: Reviews
Use the form below to be the first to review this experience.


Quad Biking Experience: Review
Quad Biking Experience: Availability
In most locations a couple of times a month
Quad Biking Experience: Fascinating Facts
An all-terrain vehicle (ATV), informally referred to as a quad bike or quad, is defined by the American National Standards Institute (ANSI) as a vehicle that travels on low pressure tyres, with a seat that is straddled by the operator, along with handlebars for steering control. As the name implies, it is designed to handle a wider variety of terrain than most other vehicles. Although it is a street-legal vehicle in some countries, it is not street legal within most states and provinces of Australia, the United States and Canada. By the current ANSI definition, it is intended for use by a single operator, although a change to include two-seaters (in tandem), is under consideration.

The rider sits on and operates these vehicles like a motorcycle, but the extra wheels give more stability at slower speeds. Although typically equipped with three or four wheels, six-wheel models exist for specialised applications. Engine sizes of ATVs currently for sale in the United States, (as of 2008 products), range from 49 to 1,000 cc (3 to 61 cu in).
Quad Biking Experience: Not sure yet